By Michael Bertini
6 Elements To Boost Enterprise SEO
When most people think SEO, the last thing that will come to mind are terms like fast, overnight, or quick. Typically, SEO results take a year or more to fully materialize.
The good news is, you can make rapid SEO progress and results, depending on where you stand with respect to technical SEO, content, and backlinks.
My goal is to unpack 6 areas in which you can make progress with SEO within a short period of time. Not every person reading this will have the same site structure, site platform (CMS), or business model, so your mileage with these tips may vary– but if you want to drill down to the "priority" areas for enterprise SEO, keep reading.
Understanding How Search Engines Operate
Google and other search engines have two major functions: crawling web pages and building an index from the data that their crawlers generate. They do this with one ultimate goal – providing a list of the websites they've determined are most relevant to a particular search. This list, known as the search engine results page (SERP), is what the end-user sees.
Search crawlers interpret your site based on elements like header tags, title tags, alt tags, structured markup tags, and navigation tags. Crawlers will also scan the body of each page to index page content.
Priority Area 1: URL Structure
URLs are probably one of the most overlooked components in SEO. They're also one of the most critical aspects to ranking a website on Google or any other search engine. Including your target keywords in your URLs can make the difference between ranking first or second on the SERP – and this can have a huge impact on click-throughs.
Take running shoes as an example – runningwarehouse.com ranks for both positions 1 and 2, yet the one that ranks in position 1 is the URL that includes the keyword "running shoes". Take a look:
I would recommend building out a diagram of your current site structure, then taking your keywords and bucketing them into themes. You'll want to work your themes and sub-themes into your site structure as appropriate.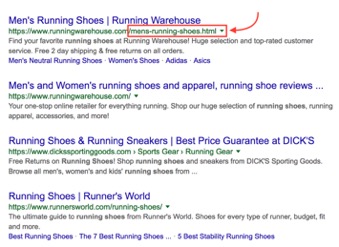 Lastly, don't forget to do 301 redirects from all of your old URLs. If you don't, you'll lose all of the SEO authority that those pages have. That is, all of the links you've acquired over the years will mean very little. If you neglect to do 301 redirects, you will see a rapid drop in ranking, and any SEO progress you made will evaporate.
Priority Area 2: Page Titles and Meta Descriptions
By far the easiest thing you can fix will be your page titles and meta descriptions. These elements are what users see on the SERP.
In the image above, the fourth link – Runner's World – has "Running Shoes | Runner's World" as the page title and "The ultimate guide to running shoes from Runner's World. Shoes for every type of runner, budget, fit and more" as the meta.
A title gives you the opportunity to convey very quickly what the user can expect to see on the page. Meta descriptions, on the other hand, are your "15 second elevator pitch".
When crafting titles and metas, you need to balance SEO and user-friendliness. You want page titles to be informative, so visitors can interpret at a glance what's on the page – but you also need to insert keywords that propel the page to a higher ranking.
To really make this work, you should be able to test out different variations on titles and metas and see how your ranking changes. At iQuanti, we use our custom-built analytics platform, ALPS, to do this.
Free tools do exist to alert you to any missing title tags or meta description tags, or identify if they are too long or too short. My recommendation, though, is to hire someone who has proven experience with writing and optimizing tags if you're truly looking to see rapid progress with SEO.
Priority Area 3: Header Tags
The main point at the top of your web page should have an H1 header tag. All of your sub-topics should have H2s. Anything below the sub-topics, like bullets, should be H3s. This doesn't sound very methodical, does it? I agree.
Header tags convey the most critical information on your page to search crawlers. For this reason, you don't want to use more than one H1 tag per page. And the more you use H2s, the more you'll dilute their impact.
Despite their importance to SEO, header tags are often misused or missing when we conduct site audits for newly acquired clients. You have to be methodical about getting them right, and they should map to your overall site structure in a way that the search engines can easily interpret.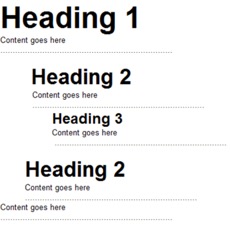 Priority Area 4: Cleaning Up Your Link Profile
If you are a mid-size or large enterprise, you probably have thousands of questionable sites pointing links at your site. In the vast majority of our new client engagements, the first thing we look at is link cleanup because it offers such a great opportunity to get quick wins.
One iQuanti client disavowed 12,000,000+ backlinks and saw their top-ranked target keywords jump 31 percent! This enterprise already ranked for 360,000+ keywords, so just imagine how much more progress they could make within a span of 6 months.
The issue with backlinks is not just bad hygiene. In some cases, we'll see our clients' competitors work with black-hat link builders to tank their rankings. Look for huge spikes in links that point to your website: this could indicate that you've been attacked.

With link cleanup, it's important to consult with experts who have a proven track record of success. I have seen other SEO agencies disavow links from hundreds of domains with a domain rating or domain authority of zero. That's a bad practice – one that required us to come in and completely rebuild the client's link profile.
A site with a low domain rating or domain authority isn't necessarily a bad site; it's simply not as established as other sites. Relevant sites with a "low" domain rating are still considered great backlinks. In fact, if you only build links that come from very authoritative sites, you might run the risk of being caught in a link scheme by Google. I have seen a few instances where this has happened.
Verified case studies are the best way to identify whether an agency is competent at link-building: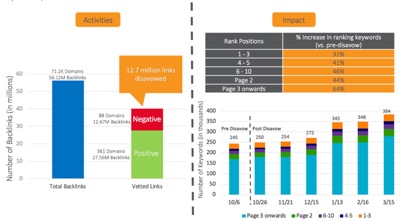 Priority Area 5: Confirming That Your Pages Are Being Indexed
A big misconception among enterprise businesses is that the search engines are indexing all of their pages. Typically, we see only 75 percent of our clients' pages getting indexed by Google.
Indexing issues can be caused by crawl errors, a robots.txt file that is blocking pages it shouldn't be, a sitemap file that doesn't contain key URLs, or the improper use of noindex tags.
Keep in mind that Google ultimately decides what to index from the web. So don't be worried if not all of your pages are indexed after you address these issues.
Assuming you have checked off common indexing problems, I would recommend doing a force crawl in Google webmaster tools. This should take care of indexing headaches; if it doesn't, just assume that however many pages you have indexed at that point is your total. As a last recourse, try improving page content and linking to it internally.

Priority Area 6: Broken Internal and External Links
If you have a website with more than 100 pages, there's a good chance you have some internal and external broken links. A quick way to check is to use third party tools that can tell you which links need fixing.
This is the most tedious exercise of these six tactics. One of my clients a few years back had roughly 7,000 broken links. Imagine the headache! The good news was, we managed to fix the errors and they noticed a lift of 140 percent in their keyword rankings over the course of two months.
They also managed to get many new pages indexed on Google because of the fixes we applied.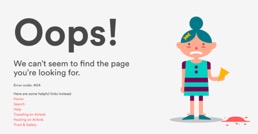 Other tactics can be considered quick fixes as well. The ones I've listed here are those we see most often and typically have the biggest business impact.
Remember, it's OK to seek rapid progress with SEO, but you should also be patient. Be measured and thoughtful about the optimization tactics you deploy, so you aren't caught unaware by any search-engine algorithm changes. Balance is key to achieving SEO success.